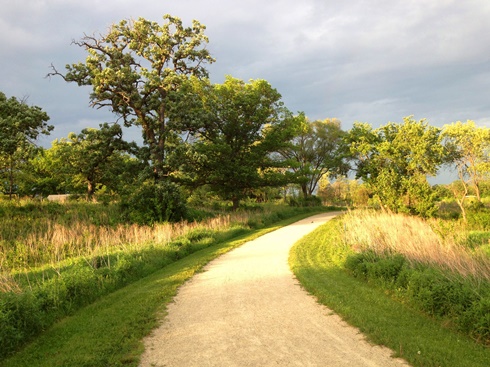 Walking in the Rain?  Seriously? 
Although April showers bring May flowers, I can vouch for lots of May into June rainfall in our area, too!
Yes, our flowers are blooming and continue to be refreshed with rain showers—no complaints on that!  But…what do you do when a sudden downpour literally dampens your plans for an anticipated walk to enjoy the spring into summer green-green foliage and brilliantly hued flowers?
Have no fear, help is on the way!  Here's what you do…
It's common sense, but here's my strategy for getting a nice outdoor walk into your day, even though the forecast says that rain is on the way.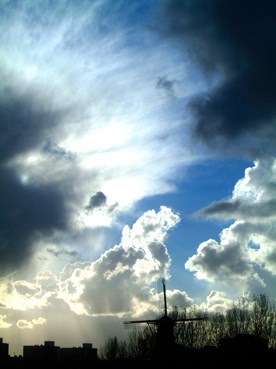 Whether you're walking in your home neighborhood, or driving to a walking venue away from home, the strategy is basically the same.  Once you've established that there's a possibility of rain, plan your walking route so that you're never more than about 5 minutes of walking time from shelter.
If you're at home, walk a route so that you can loop back to home in 5 minutes.  Walk 5 minutes in one direction, loop back towards home–that's your first 10 minutes–done!  Then walk 5 minutes in another direction and again double back.  OKAY!  Now you're up to 20 minutes of walking!  And then continue in a 3rd direction, and so forth.
The same holds true for a walking venue outside your home neighborhood.  Just loop back to your car after you walk about 5 minutes in any direction, or make sure there is another convenient place for shelter if you walk further away from your car (café, store, library and such).
Of course if the weather forecast is for extreme weather, then maybe it's a good day for indoor walking…the mall, a large store, at home, at the gym, or on a treadmill.
But otherwise, why not venture out at the risk of getting just lightly rained on for about 5 minutes at most!  Did I tell you that on these kinds of days I always make sure to bring a little portable poncho with me?  Well make sure you do, in case the sudden rainfall is heavier than expected—you may not ever need it, but it's worth taking along!
Today our forecast said 50% chance of isolated rainstorms, yet all day long we had 85+ degree weather and sun…until I packed up for my walk at the trail park, that is…
But did that stop me?  Not at all!  I drove to the park, prepared to walk at the very least 10 minutes—I was determined that I could maneuver this…and I DID!
I looped away and back to my car several times and even ventured about 10 minutes away from my car for a great 45 minute walk!  And I was only sprinkled with a few raindrops for about 4 minutes of the entire walk—yahooo!!
Plus, the view of the sky, the clouds and the Technicolor drama of the foreboding rain storm and then the afterglow as it passed us by was stunning!  I had to take some photos to capture the drama and the contrast.  It made my whole walk experience one of the BEST ever!
So please join me for an outdoor walk…even on a cloudy day.  I hope you'll enjoy it as much as I do!  Yes!  Walk on!
Related post:  Why walk?  What are the benefits?
P.S.  To tell us what you think, please enter your first name and e-mail address in the form below along with your comment!  I look forward to hearing from you all!  (Only your first name will be displayed with your comments.  Your e-mail address will remain private).