The FIRST Just Love Walking Show/Podcast is HERE!
On this Just Love Walking Show:  JLW 001 – Take a Tropical Walk Vacation I explore one of my favorite reasons to walk…to take an invigorating and relaxing break from the daily grind!
Much like taking a tropical vacation, you can be happy & relaxed…tap your fingers & move your feet to a lively beat and bask in the warm glow of tropical happy thoughts and a re-energized spirit, as you walk along your way!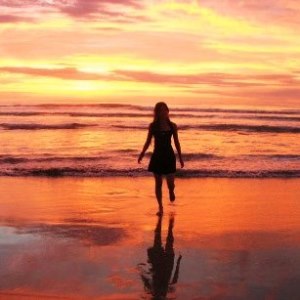 Podcast Intro/Details:
This podcast is an accompaniment for a refreshing 30-minute walk.
I'll be talking to you periodically throughout the podcast to encourage you onward and to give you some upbeat thoughts to walk with!
The music underscore: 120 BPM – 130 BPM speed range, rhythmic walking music with a variety of popular music genres in the mix!
I think you'll find it a comfortable yet energizing arc, moving from slower to faster music and then back down to the slower speed…smoothly and gracefully with a smile on your face!
If you start walking with me from the very first minute of this podcast–awesome!  But I'll keep encouraging others to come join us over the first few minutes, too.
Play the newest podcast instantly from a smart phone from the Just Love Walking Podcast player in the right column, on This Podcast page, Blog page, About page or the Homepage! 
This Podcast is available for FREE in iTunes Store!  
Click HERE for the iTunes preview page for the Just Love Walking Show & select the episode
then click the "View in iTunes" button to see it in the iTunes Store where you can Play it & Subscribe for FREE!
In future podcasts, I'll be suggesting more ideas to make your walking experience a happier place to be & encouraging you to share your thoughts, too!  For further details on how to prepare for your walk, please see my Walking Readiness Checklist on my homepage!
Note:  Please gain approval from your health caregiver before embarking on any new physically active program such as walking.
JLW 001 Podcast MP3 Direct Download:  right-click here ->save target, (or from the podcast download link below), then open the MPEG with iTunes, or any other audio player. 
Podcast: Download (Duration: 33:47 — 31.1MB)