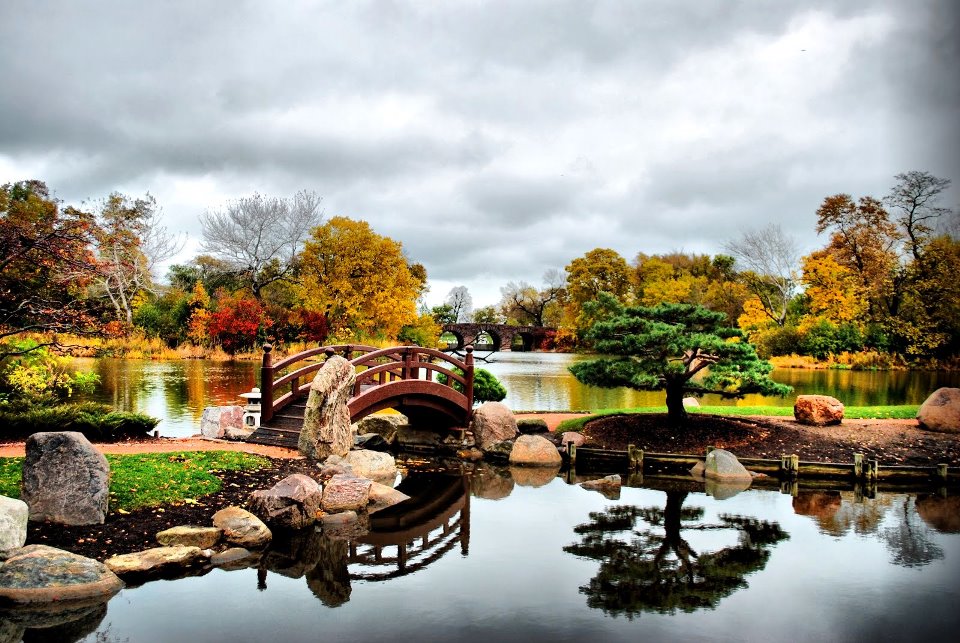 I've often longed to take a Japanese Garden walk…
…especially after reading about the Japanese Garden originally installed for the Columbian Exposition 1893 Chicago World's Fair!
A summer visit to explore the Jackson Park, Chicago wooded Island where the Japanese Garden still stands, piqued my curiosity even more!  Believe me, I thoroughly enjoyed my Japanese Garden Walk!
But…I knew a better awareness of the complex Japanese Garden history would enable me to appreciate a future Japanese Garden Walk even more.   I even extended my study with a visit to the Chicago Art Institute!
So…that's why I want to share what I learned with you.  Plus the Japanese Garden's history is chock full of drama with astonishing twists bound to amaze you!
In fact, there's enough interesting trivia to make this a full-fledged two-part series. Consider this Japanese Garden Walk Part 1…here we go!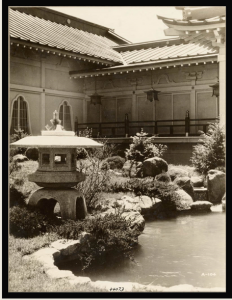 It all started when, in 1893, as part of the Chicago World's Fair Columbian Exposition, Japan gifted Chicago the Japanese Garden of Phoenix…
…located on the wooded Island of Chicago's Jackson Park and comprised of a traditional Japanese Garden with several buildings of Japanese architecture, including the Phoenix Temple.
These Japanese Garden buildings were duplicates of the famous Hooden Temple (called the Phoenix Palace) near Tokyo, Japan.   The temple had great religious significance for the Japanese people, as it symbolized the sacred mythological Phoenix bird.
Within the Temple of the Phoenix were luxury tea rooms where lavish Japanese painted screens were on display, along with the exquisite wooden carved and painted Ranma panels. These Ranma transom panels were long rectangular views of cypress branches and Phoenix birds, beautifully rendered!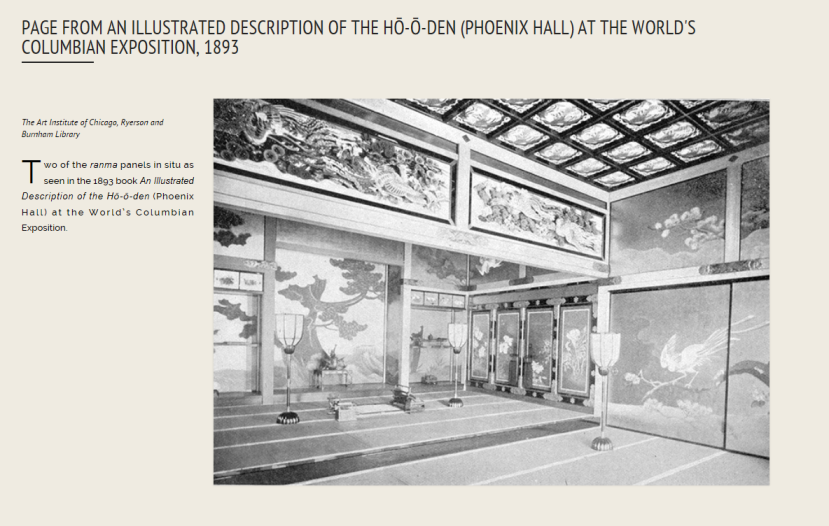 This Phoenix Temple remained on Chicago's wooded Isle after the 1893 World's Fair along with its original small garden, but over the years ran into severe disrepair.
In the 1930's the newly formed Chicago Park District added a more extensive garden to this temple while restoring the temple.  But the Phoenix Temple suffered even more destruction from vandals during WWII and then was tragically destroyed by fire in 1946.
The garden remained, but deteriorated until the 1980's when a federal grant allowed the Japanese Garden to be restored by the Chicago Park District.
Twelve years later a sister city project, (Osaka, Japan) contributed even more to the Japanese Garden's renewal.  Consequently, the garden was called the Osaka Garden in 1993.   But 20 years later, in 2013, the garden was renamed again to be the Garden of the Phoenix.  And this is the name it is called today.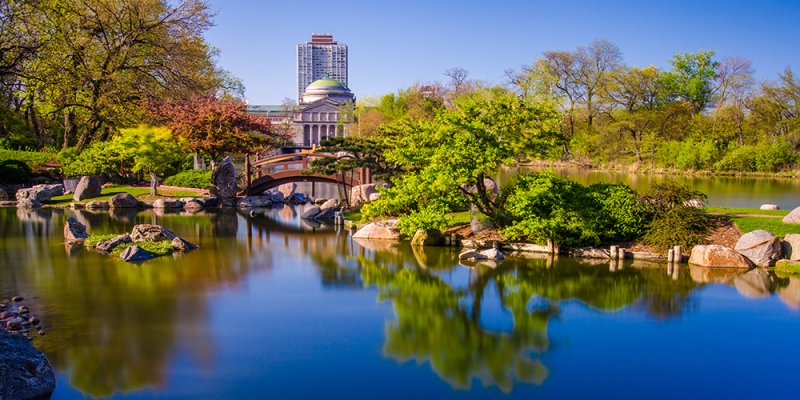 The Japanese Garden itself is very simple with a patterned stone pathway, a large koi pond, a small-scale waterfall with a babbling brook, a traditional Japanese curved arch bridge and a Kasuga Lantern (a lamp that miraculously survived from 1893).
The theme of the garden is peace as seen in the aesthetic balance between countries and cultures and between nature and city—a small-scale representation of lakes, islands and hills.
The four Ranma panels originally displayed in the now demolished Phoenix Temple (depicting beautiful Phoenix birds), have an amazing story of their own—it's a wild ride that's hard to believe but true!
Astonishingly the Ranma panels survived two Phoenix Temple fires and although soot-covered, they were rescued by the Park District!  At this point they were stashed in a very unlikely location.  They were stored under the bleachers of Chicago's Soldier Field arena!  (What??)  The plot thickens…
Decades later (in 1973) they were rediscovered during a clean up process.  And somehow they were then divided up for further storage.   Two were sent to the UIC Art History Department (for limited display in their scruffy condition).   While the other two were sent to the Chicago Art Institute (where they were stored in a basement).
But…thankfully…all four transoms were finally brought back together when the Chicago Art Institute began the planning and renovation of their Japanese galleries.
Of course, before these panels could be effectively displayed, they underwent a much-needed 10-month restoration process!  This process included refurbishing damaged wood pieces and repainting the flowers, leaves and birds to restore them to their simulated original color.
The Ranma panels are finally being shown in their refurbished splendor on the walls of the Chicago Art Institute's new Asian Art wing.  Yes!
Last summer I made a special trip to the Chicago Art Institute to appreciate these four lovely carved transom screens.  It was a glorious sight to see all four hanging end-to-end on the Asian Art Wing entrance wall!  Who would have thought they had been through near destruction, years of storage and finally…renovation!
But to get back to the outdoor garden, a recent Chicago news story pictured a couple admiring a Cherry tree branch in the Cherry Tree Grove of the Jackson Park Japanese Garden surrounds. I had hoped to do the same.
In view of the current pandemic I will sadly not be visiting this Cherry Tree grove this year, but I plan to next year for sure!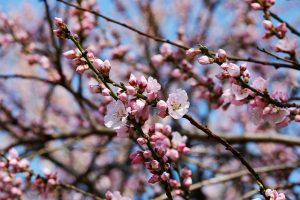 In Japanese Garden Walk – Part 2, next year when I tour the Jackson Park Cherry Tree grove (hopefully while in bloom), I'll talk about:
Yoko Ono's special gift to Jackson Park's Japanese Garden,
The history and current status of the Cherry Grove
And the details of some amazing future plans for the Jackson Park Music Center to be built in this vicinity.
It'll be great fun to take a walk to tour this center in the future–can't wait!