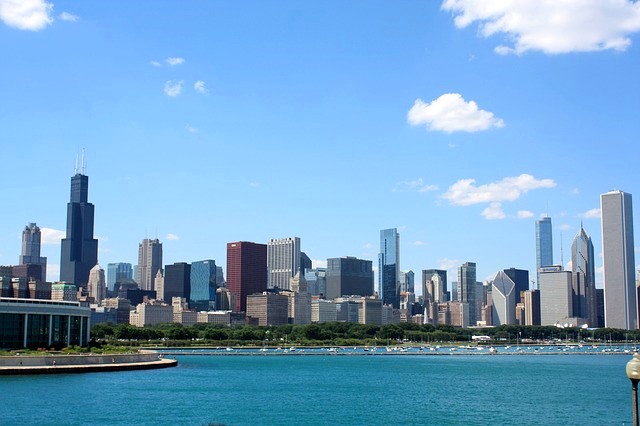 Summer in the city walking is one of my favorite things to do…
It reminds me of all those summers growing up when the family took all-day trips to tour museums, walk the lakefront and drink in the beauty of the city of Chicago!
So these days I make sure to do some summer in the city walking in our grand and beautiful city!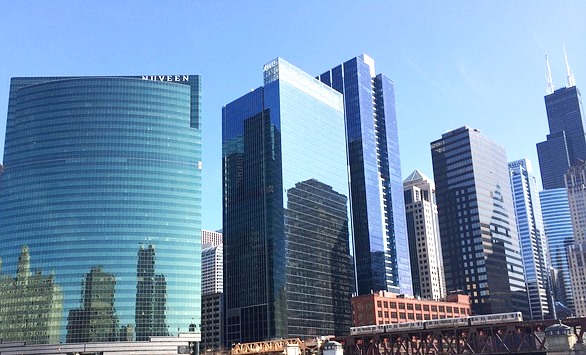 It's a mix of exploring the "cool 'n new" and a reflection back on family togetherness!  Thinking about how much fun we had on city outings while sharing impressions, dropping into a local eateries–adds a special dimension to my trip!
This week as I swooshed to the city via Metra train, I prayed that the extreme heat forecast wouldn't dampen my enthusiasm for this special outing.  It did not!  I was relieved to find that the mid-afternoon timeframe and a slight breeze made the heat more tolerable.
Yet walking from the train station to the Art Institute, the words of a popular Lovin Spoonful song from the 60's ran through my head…
"Hot town, summer in the city…walking on the sidewalk hotter than a matchhead!"
Anyone else remember that song?  I can sure relate to that song today–enough said!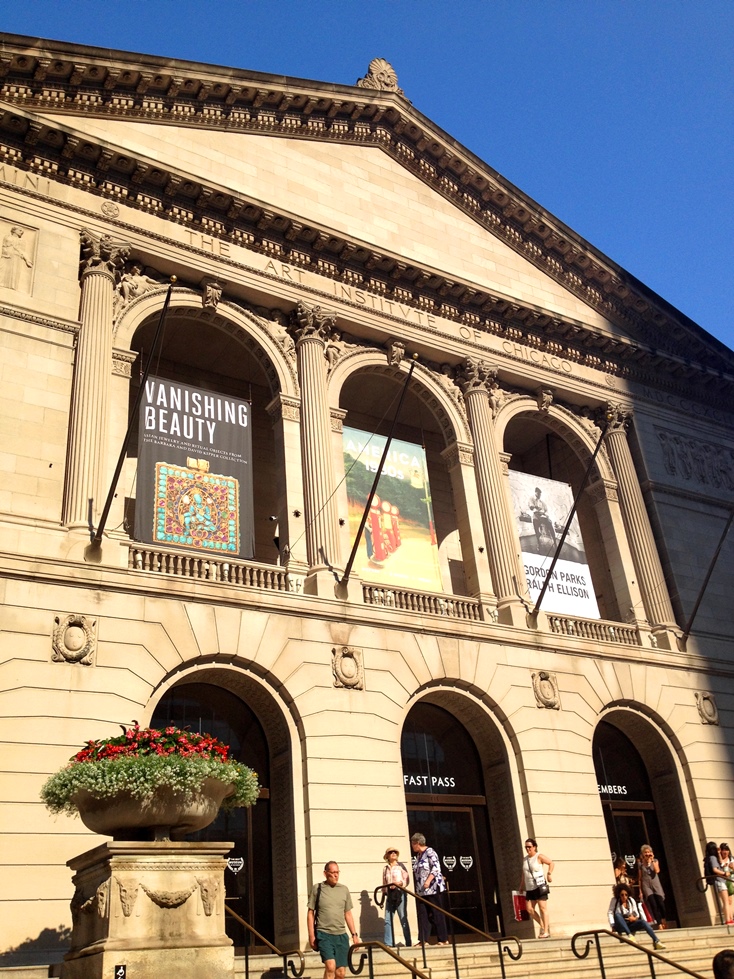 Aiming straight for the Chicago Art Museum…
I hoped to catch the special exhibits and much more before closing time.  So with focused no-nonsense walking, I was proud to arrive in about 15-20 minutes!
Climbing the Art Institute stairs, that comforting feeling swept over me again.  Ahh—yes, this is the place…once again, I am home!
From there the walking seemed incidental.  Immersed in art appreciation, it was almost like floating floor to floor, to new wing and up and down those stairs.  I marveled at the genius and sometimes "weird" perspective of traditional and new artists on the scene.
I especially enjoyed visiting the cherished artworks of my self-proclaimed "soulmates" Henri and Vasily!  How they woo me with those expressive shapes and exhilarating arrays of vivid blue, green, peach, pink and more.  It's an artist's rendering/viewer appreciation love affair—pure magic!
(Of course, I'm referring to Henri Matisse and Vasily Kandinsky…as if I had to tell you–they are so loved by so very many).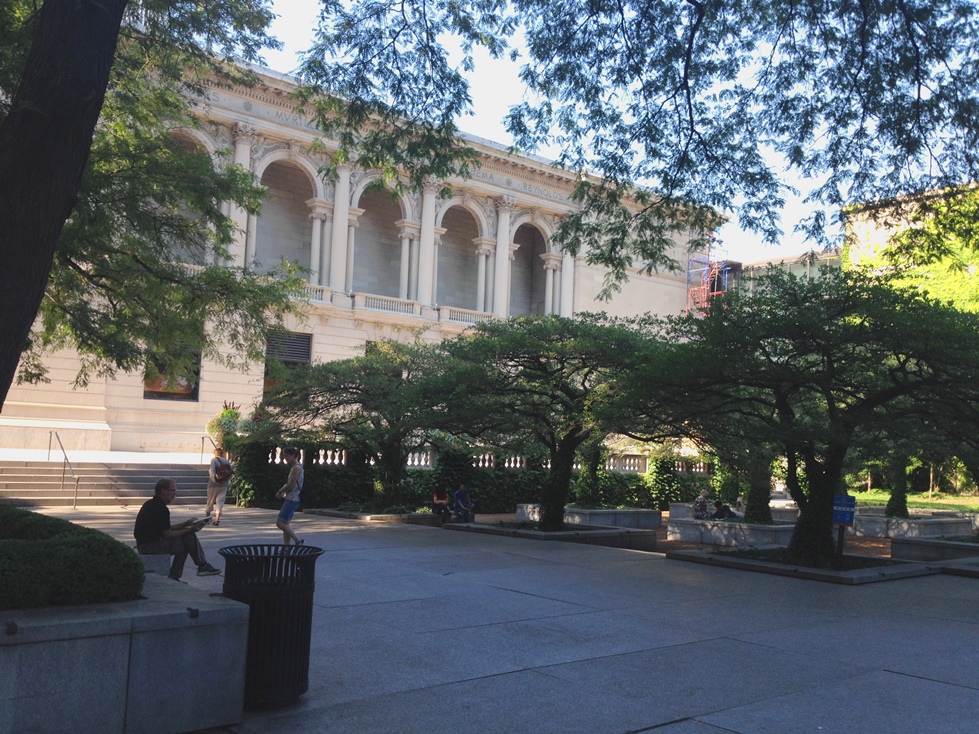 Once the artwork lovefest inside was over…
(and well, OK, since the museum was closing), I walked around outside.  And here I rediscovered the detail of the remarkably exquisite exterior of the art institute!  This was something I'd taken for granted lately.
As I meandered all around and through the gardens, I savored the uniqueness of the strangely shaped trees, the peaceful symmetry of courtyards, the grandeur of the layered arch and pillared entrance…and something I hadn't really noticed much before—the archway taken from the old Chicago Stock Exchange recreated in the eastside art institute garden.
I admired the lonely majestic stone arch with exquisite filigree design–such a haunting monument to a beautiful building long gone!  I was curious to find out more.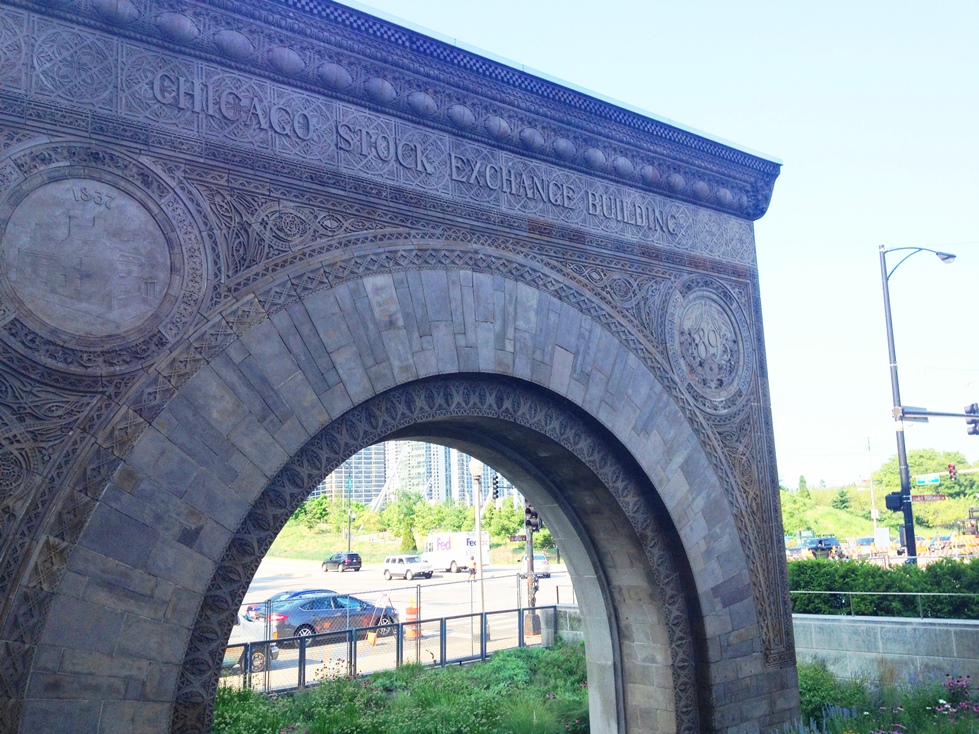 The Original Chicago Stock Exchange building history…
describes how an astounding building and one of the earliest of many "skyscraper type" buildings was designed by Louis Sullivan and Dankmar Adler in the late 1800's.  Unfortunately, it was demolished in 1972 despite protests.
But through the heroic actions of a photographer Richard Nickel (who very sadly died in a partial collapse of the building while collecting artifacts), the magnificent Chicago Stock Exchange trading floor room was reconstructed!  It is now a permanent display in one of the newer wings of the Chicago Art Institute.  Nickel's efforts also inspired a Chicago preservation movement–I applaud him!
I know I've seen the recreated trading room before, but it's definitely something for me to rediscover and appreciate more fully on my next trip!
You really do learn so much more when you walk—the impressions have time to develop more richly and give rise to deep inner dialogue about values, priorities, the meaning of progress and other philosophical wonderings…you develop a relationship with these icons!
FYI – the majestic cast iron double staircase from the original Chicago Stock Exchange Building is now on display at a another famous art museum.  Can you guess which one?  I'll bet you already know, but for those who don't, I'll tell you at the end.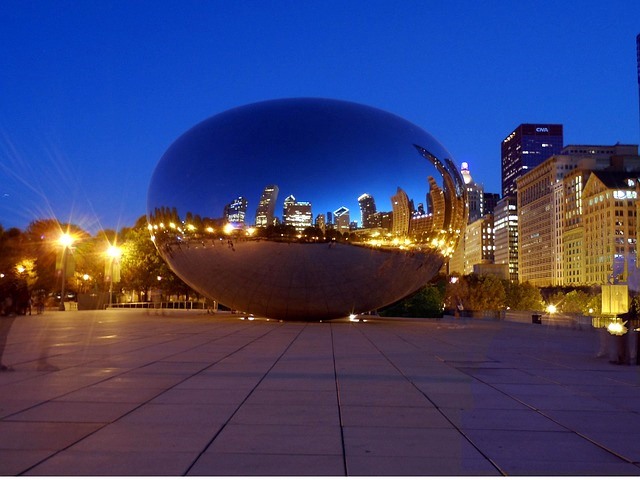 Hours later, after walking about the waterfront…
I began the long slow walk towards the train station to go home.
While feeling the aesthetic experience after-glow, I was awestruck again.  I watched the city gradually transform into a chiaroscuro sculpture against a blanket of dark blue sky, strewn with emerging pinpoints of light.
Words near the end of that 60's song came to mind:  "…but at night it's a different world…come on, come on and dance all night…"
I wish I could dance all night, or walk all night…under the stars, with the glittering skyscrapers looking down, the Buckingham Fountain glowing in soft light like something out of a fairy tale.
And the sidewalks that appeared treacherous before, now transformed into cooler winding ribbons of shadow and light…leading me on and on.
I took my time to linger and be enthralled as I walked!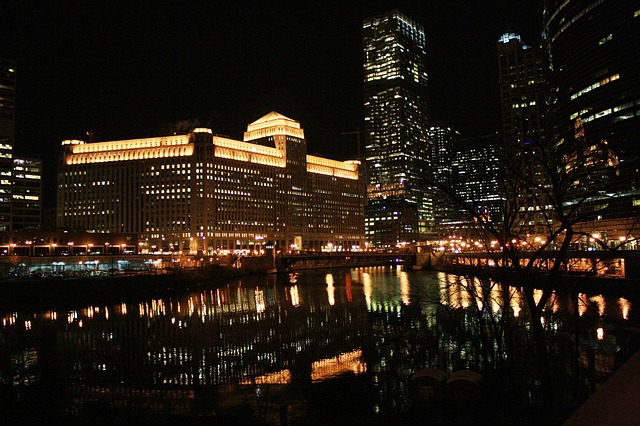 So for today…
I'll be grateful for an enjoyable afternoon and evening of summer in the city walking!  It's a beautiful experience day or night!
There's always something new to see, something you've never noticed before to explore, and a new perspective to ponder.  It always teaches me something new about the city, it's people and myself.
I come away more informed, aware, curious, thinking and more at peace with myself and the world for the trip.
So please do get out and enjoy some summer in the city walking—take my word for it, you'll be glad you did!
Happy Walking, my friends…
P.S. The original Chicago Stock Exchange Building's cast iron double staircase is on display at the Metropolitan Art Museum in New York City.  I've toured the Met several times, but not nearly as much as I would like!
P.P.S.  Please tell us what you think!   Just enter your first name and e-mail address in the form below with your comment.  I look forward to hearing from you all!  (Only your first name will be displayed with your comments.  Your e-mail address will remain private).