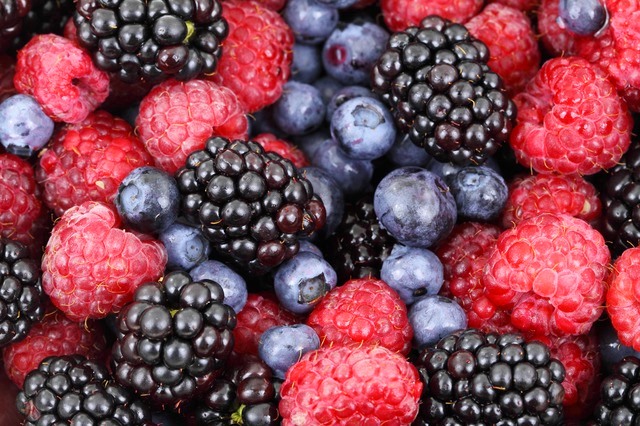 Getting ready to take a nice long walk?
Or are you preparing a snack to eat now to get yourself going on a walk?
Either way, make sure to energize your walk with a healthy snack!  Energize your walk before you go, or pack a snack to eat along the way to energize your walk.
There are lots of energy bars and energy drinks on the market to choose from (and that's handy)…
…but why take so much time reading through the ingredients of multiple energy bars and drinks, when you can easily go to the whole natural ingredients themselves and mix them together to your own liking—a custom-made healthy snack that contains the good-for-you ingredients but also takes into consideration your favorite tastes, flavors and textures!
For example, here's my "go to" energy drink and some snacks that I find both healthy eating and delicious that can easily be "changed up" to your liking!
My favorite Blueberry-Orange Smoothie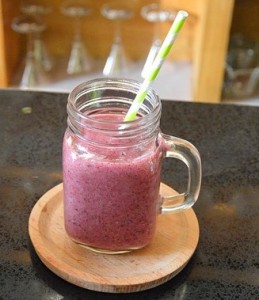 Ingredients:
1 cup kefir (or plain yogurt)
½ cup Orange Juice (or your favorite juice)
2 tbsps. ground flax seed
½ cup frozen blueberries (or mixed berries, strawberries, raspberries, blackberries, other fruit)
A spritz of honey or a little natural stevia sweetener
Optional: add a mashed banana for something more filling
Directions:
Shake the ingredients up in a glass bottle with a tight lid, stir vigorously with a long spoon, or mini whisk, or use a hand-held Oster blender/mixer to mix it and crush up the frozen blueberries (or use a blender).
After it's thoroughly mixed, throw a straw into the glass bottle and enjoy.
If the blueberries are still whole, eat them with the long spoon from the bottom—yum!
Tip: I use a flex straw, drink half of the smoothie, bend the straw down, screw on the lid and place the remainder in the fridge for another pick-me-up later.  Works great as a quick breakfast and mid-morning snack, or light lunch and mid-afternoon snack.
And who doesn't get the munchies?  So on to my favorite healthy energizing Snacks mixes!  (Spoiler alert—this is simple, simple simple).
My Fav SPICY & Crunchy Snack Mix of all time is…
Crunchy, Nutty Wasabi Pea Mix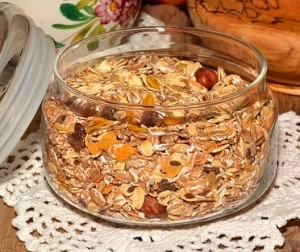 Combine the following:
a handful of your favorite healthy dry unsweetened cereal  (I use Fiber One original)
a handful of natural almonds (sliced or whole) or sunflower seeds
and throw in a handful of dry roasted wasabi peas for zest and extra protein!
Yeowzer! This one satisfies my craving for something salty and spicy without reaching for those Doritos!
My Fav SWEET & Crunchy Snack Mixes are…
Chocolate-Coated Almonds
In a small baggie, mix:
1 teaspoon of natural dark cocoa powder (I use Hershey's special dark cocoa)
1 packet of stevia or sugar in the raw,
a dash of cinnamon
Then:
spritz water on a handful of whole almonds (just sprinkle them with your fingers on a paper towel)
slide the spritzed almonds into the cocoa mixture baggie and shake-shake-shake!
Tip: If it's too messy to eat with your fingers, use a disposable spoon to sample those delectable chocolatey almond morsels!
Voila! Now you have chocolate flavored almonds!
Or for something sweet and fruity and for more flavors and textures…
Cereal, Nut, Fruit & Chocolate Mix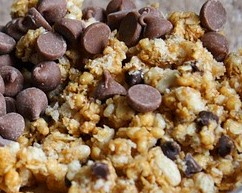 Mix:
a handful of healthy dry cereal
a handful of whole or sliced almonds,
a handful of raisins, dried cranberries, blueberries, cherries, etc., (whatever you like)
and/or mini dark chocolate chips (I suggest Hershey's special dark chocolate mini chips)
Any combination of these ingredients that sounds delicious to you has to be delicious, so go for it!
It's funny how just a tablespoon of those mini dark chocolate chips mixed with a handful of whole natural almonds or any of those other ingredients, can taste soooo decadent!  It's almost like you're eating a whole candy bar (yet it's so much better for you)!
Make sure to store handfuls of any of these snacks in tightly sealed zip lock snack bags to grab before your walk or to take with you while you walk.
Enjoy finding your own special favorite combinations of delicious smoothie ingredients and scrumptious snack mixes—the possibilities are endless!  Have fun with it!
Happy energized walking to you all—seize the day!
P.S.  To tell us what you think, please enter your first name and e-mail address in the form below along with your comment!  I look forward to hearing from you all!  (Only your first name will be displayed with your comments.  Your e-mail address will remain private).