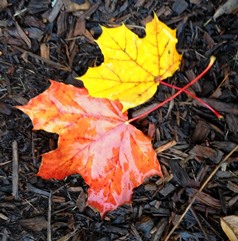 Alas summer is long gone and the fall season is in full swing…moving swiftly towards winter…
A weather forecaster's remark that our Chicago weather is currently almost 20 degrees colder than normal for this time of year, made this fact blatantly apparent!
I have to admit that at first this triggered some despair as I reminisced about the glorious weather I'd enjoyed while walking this past summer—ahhh…those were the days…
But quickly, I realized I needed to change this mood into something more proactive!  I decided to do a comparison of a walk in the fall with one of my most treasured summer trail park walks!  A bold move perhaps, but I'm convinced that each season has its own special beauty to appreciate.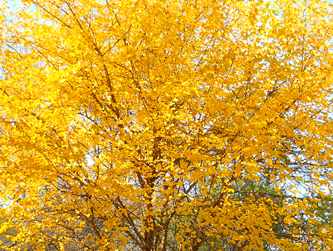 Last summer I took copious iPhone photos of the trail park's multi-colored dancing flowers, magnificent leafy friendly trees, the greenest lush grass and clear bluer-than-blue sky!
But today I decided to walk at the same trail park, vowing to keep an open mind.  With this attitude I hoped that my fall walking might stand out as beautiful, inspiring and memorable, too.  It's all in the attitude, right?  We'll see…here we go…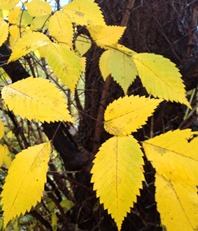 Once I started walking at the trail park, right off, I could be thankful for the cooler crisper air…invigorating and refreshing, even though I now need to wear a light jacket or a water repellent windbreaker–so what?
I ended up walking an extra loop along the trail path, since the air was less humid than in summer, plus the walk felt much more pleasantly warming and exuberating!
The view of the entire landscape didn't have the brightness nor the clarity as in summer, and I did miss that vibrant green backdrop of grass and trees.
But the varying fall shades of gold, copper, red, sharpely contrasting the evergreens, damp tree trunks and darker fields, were quite dramatic and in a different way just as remarkably beautiful…exquisite!
I snapped some photos of:
the brightly colored leaves that had turned to surreal vivid hues,
along with a few determined flowers that somehow continued to bloom despite a few nights of below freezing weather
and several types of shrubs turning variegated autumn shades!
Some trees and bushes now displayed berries…bright red or white which stood out noticeably on their respective dark green or reddish-gold leaved branches!
Fall walking offers a cornucopia of color, shape and interesting combinations—I took it all in and was thrilled to see how wonderfully it photographed via iPhone too!
A happy memory to add to my favorite walk collection–yes!
I hope that you find ways to appreciate walking outdoors in this fall season too! 
The cooler air can be quite invigorating for your walking!
And take pictures along the way—you'll be surprised at how beautifully the fall colors can photograph…even on cloudy days–enjoy!
P.S.  While editing some of the iPhone photos from the walk, I was surprised that there was almost no need to enhance the colors at all!  What you see is pretty much the original iPhone camera snapshot—incredible huh? 
P.P.S.  To tell us what you think, please enter your first name and e-mail address in the form below along with your comment!  I look forward to hearing from you all!  (Only your first name will be displayed with your comments.  Your e-mail address will remain private).